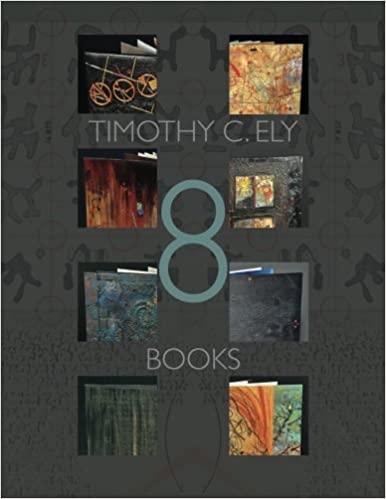 BOOK REVIEW: 8 BOOKS
by Robyn Colman Our library – stored and maintained by Ailsa in her studio – has received several donations recently, including this handsome book, donated by Mark Donnelly. It is the catalogue from a 2016 exhibition of eight books by the US artist Timothy C. Ely. The books were for sale through Amazon, though none is available now, unsurprisingly because even in photographs they look superb.
Ely's work is described as "a fusion of his unique take on English-style binding techniques with visionary drawings". Amply illustrated, the catalogue has an introductory essay and a statement by the artist, along with descriptions of each book.
With drawing, painting, collage, printing and many other techniques, Ely uses his research into areas of interest (including his own history) to make expressive books of intricate illustration and fantastical worlds. As the catalogue notes, "[F]ragments of architecture, cartography, geometry, astronomy, and physics find their way into every book as texture, metaphor, and message".
Ely says that Tethys, for example, (shown below left) is built around a floor plan of a classic – but secret – build- ing. The catalogue expands on this, with information about the drawings, plans, and ideas that are implicit and explicit in the book.
The artist has also developed what he calls "cribriform" – the name he gives to the language-like drawings incorporated on almost every page. He says that the word means "'perforated like a sieve' . . . an appropriate way to describe language" (see below right).
Bookbinders, especially, will be interested in the different binding methods that Ely uses, some of which he has developed himself. Planetary Collage Standard Drum Leaf binding, for example, is one of Ely's variations on a familiar method.
Each of the eight books is described in some detail and presented with superb photographs of the interiors and covers. I am strongly tempted to buy a copy for myself.
A spread from the book called Tethys. 18 A sample of Ely's "cribriform" language/lettering.
Timothy C. Ely, 8 Books, Abby Schoolman Books,
New York, 2016.