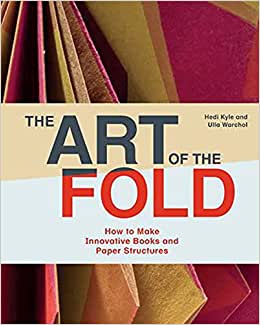 The subtitle of this marvelous book says it all: How to Make Innovative Books and Paper Structures.
The book's own cover illustrates artful printing and folding with a wrap-around (and detachable) paper superstructure. The book is beautifully produced – a work of publishing art, appropriately for the subject.
Inside, the authors (mother and daughter) deconstruct our ideas of what a book is, and then show how to put into practice their ideas, and those of collaborators over the years, to make artful, cunning, sometimes simple and sometimes complex structures to create some familiar-but-with-a-twist, and some new, forms.
Some of these forms will be well-known to experienced calligraphers and book artists. Most require few materials other than paper (or card), and many of us will have enough of the necessary tools in our cupboards.
As a newcomer to this art form, some of the more complex projects in the book seemed daunting. On the other hand, the diagrams and step-by-step instructions are so clear that I felt encouraged to try, starting with simpler accordion books (similar to those we have learnt to make in Society workshops), and to take things from there. The authors have a wealth of experience both in creating and in teaching, so we are in very capable hands.
And throughout, they encourage us to experiment, to allow their ideas to lead us into our own versions and forms, and to improvise.
Hedi Kyle is an internationally renowned artist, inventor and teacher. Her book has been widely anticipated and warmly received by book artists everywhere. It lives up to the expectations of experts. And for me, a slightly scared beginner, it offers all kinds of promise.
Accordion books (including flag books), single-sheet books, fascinating blizzard books, and albums are there, beautifully photographed and clearly explained, ready for us to try. In all there are 29 book projects and another seven enclosures including wrappers, a slip case and a box.
This is a book that encourages the highest standard and provides considerable fun in making. It is available from independent bookshops (perhaps by order, if not in stock).
Laurence King Publishing, 2018.
Robyn Colman